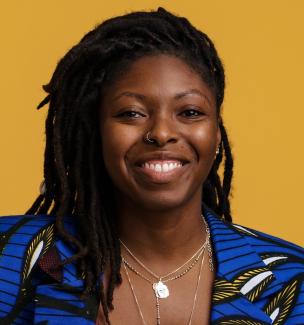 Sha'Mira Covington is a PhD candidate in the Department of Textiles, Merchandising, and Interiors and the Institute for African American Studies, and she graduates in Spring 2023. Her research explores archival sources to illuminate the myriad of ways that Black women have used embodied modes as liberatory praxis. She's also a yoga teacher, doula, liberationist, and abolitionist. Sha'Mira began her work in IAAS in Fall 2019 and has since completed her graduate certificate. Reflecting on her time in IAAS, she notes Afro-Latinx Identity with Dr. Lesley Feracho, Black Buddhism with Dr. Carolyn Jones Medine, and her Colloquium on African American History with Dr. Diane Morrow as some of her favorite courses.
This spring semester, Sha'Mira was selected as a UGA Office of Sustainability Grant recipient for her project entitled, "Fighting Systemic Racism, Classism, and Individualism." This project, in partnership with Sara Idacavage (PhD student in the Department of Textiles, Merchandising, & Interiors) proposes fashion education programming that incorporates racial justice, class justice, and collective activism to reach true sustainability objectives. To that end, some of their grant work has included a communal book club reading Consumed | The Need for Collective Change: Colonialism, Climate Change, & Consumerism by Aja Barber and the upcoming Virtual Panel on April 14th including such scholars as Teju Adisa-Farrir, Korina Emmerich, and Dominique Drakeford.
Further, through her New Approaches: Fashion in Diversity Grant, she's coordinating an in-person speaker series during March and April 2022. Speakers include: Jonathan Square, Angela Nurse, Heather Akou, and Lauren Downing Peters. For more information and speaker biographies, see the full press release here. Congratulations, Sha'Mira! We are proud of the work you're doing supporting the mission of the Institute and look forward to watching your career in future years.
If you're interested in learning more about the Graduate Certificate in African American Studies, please visit our information page or email Dr. Lesley Feracho to schedule a prospective student appointment. We anticipate welcoming a new cohort of Graduate Certificate students starting in Spring 2023.