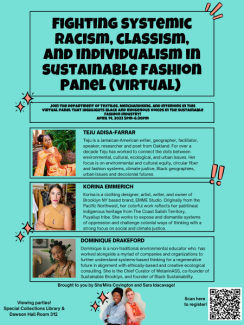 Zoom (see registration details below)
Join the Department of Textiles, Merchandising, and Interiors in this virtual panel that highlights Black and Indigenous voices in the sustainable fashion industry.
April 14, 2022 5pm-6:30pm 
Zoom registration: https://zoom.us/meeting/register/tJYqcuGspzwjHtRB1V259C5kOdDAOTZ1rPJi
Viewing parties will be held in Special Collections Library and 312 Dawson Hall. If you have questions, feel free to email Sha'Mira: scovington@uga.edu. 
Speakers include:
Teju Adisa-Farrar
Teju is a Jamaican-American writer, geographer, facilitator, speaker, researcher and poet from Oakland. For over a decade, Teju has worked to connect the dots between environmental, cultural, ecological, and urban issues. Her focus is on environmental and cultural equity, circular fiber and fashion systems, climate justice, Black geographies, urban issues and decolonial futures.
Korina Emmerich
Korina is a clothing designer, artist, writer, and owner of Brooklyn, NY, based brand, EMME Studio. Originally from the Pacific Northwest, her colorful work reflects her patrilineal Indigenous heritage from The Coast Salish Territory, Puyallup tribe. She works to expose and dismantle systems of oppression and challenge colonial ways of thinking with a strong focus on social and climate justice.
Dominique Drakeford
Dominique is a non-traditional environmental educator who has worked alongside a myriad of companies and organizations to further understand systems-based thinking for a regenerative future in alignment with ethically-based and creative ecological consulting. She is the Chief Curator of MelaninASS, co-founder of Sustainable Brooklyn, and founder of Black Sustainability.