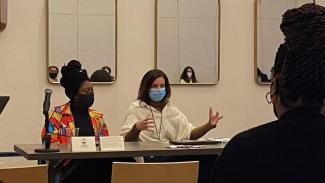 As we celebrate Black History month (and Black excellence 24/7), the Institute for African American Studies extends congratulations to the following faculty and students on their recent achievements in 2021 and early 2022. For instance, Dr. Chana Kai Lee, Associate Professor of History and African American Studies, was awarded a Warren Center Faculty Fellowship at Harvard University for the 2021-22 academic year. The Charles Warren Center, Harvard's research center for United States history, invited applications for a workshop on Slavery and the Universities. The workshop will bring together scholars to systematically reflect on how such research can be elevated by considering how it contributes to a rethinking of the nation's history as a whole. Selected scholars will share work in progress and take stock of the moment in which it emerged. Read the full announcement from the Franklin College here.
Additionally, IAAS Director and Professor of Religion Dr. Carolyn Jones Medine, was appointed Vice President for the Society for Buddhist-Christian Studies, and her article on Historian of Religions Dr. Charles Long was selected as the featured, free article in American Religion 2.2 (Spring 2021). Further, Dr. Medine was one of two Franklin College Diversity Fellows named for the college within the Office of Diversity and Inclusion Leadership, and from Fall 2021 until Summer 2023, she's charged with evaluating, promoting, and initiating strategic diversity and inclusion initiatives for the Franklin College of Arts & Sciences. Finally, we're delighted that IAAS Associate Director and Associate Professor of Spanish, Dr. Lesley Feracho, was chosen as a Faculty participant in the inaugural Willson Center for the Humanities and Arts Grants and Fellowship Mentorship and Support Program, which will allow her to work on her book tentatively titled Afro-Diasporic Transnationalism and Black Feminism: Transatlantic Dialogues of Black Women Writers and Artists in the United States and Brazil.
Alongside these tremendous faculty achievements, we celebrate several IAAS graduate student achievements. For instance, IAAS Graduate Teaching Assistant Ms. Chera Jo Watts, was selected for the inaugural UGA First Award in Fall 2021. This new award celebrates achievements of First-Generation college students on our campus. Additionally, Ms. Watts and Ms. Sha'Mira Covington (IAAS graduate student), gave a presentation on their Fall 2021 Hood Feminism Book Club during the Southern Humanities Council Conference in Memphis, TN, during January. Deploying a decolonizing pedagogy and inspired by Womanist and Buddhist teachers, Ms. Covington and Ms. Watts shared their experiences from a duo-ethnographic approach, connected with potential partner institutions, and facilitated dialogue for scholars wishing to cultivate reading community for and with their students. Their work has been inspired and supported by the Institute.
Additionally, Ms. Covington was selected as a grant recipient from the UGA Office of Sustainability. Her project, "Fighting Systemic Racism, Classism, and Individualism in Sustainable Fashion Education" consists of a book club, panels, and several workshops hosted during the spring 2022 semester. The Institute lends its support as co-sponsor for several of her events. 
Also, we celebrate IAAS graduate certificate student and former Giles Award winner, Marques Dexter, for his appointment as the Assistant Director for Student Initiatives in the UGA Office of Institutional Diversity. Through this role, Dexter directs the Georgia African American Male Experience (GAAME) Program, advises Georgia Daze and the Undergraduate Black Law Student Association, and serves as Affiliate Faculty in the UGA Division of Academic Enhancement. Further, Dexter was one of two graduate students that served on a task force for the National Association for Diversity Officers in Higher Education (NADOHE) to develop a Framework for Advancing Anti-Racism Strategy on Campus. As such, he will be attending their national conference and participating on a panel and town hall sessions to discuss the framework.
Finally, we extend congratulations to Ms. Nikki Clay, a second year PhD student in Performance Studies completing her graduate certificate in African American Studies this spring. Ms. Clay's latest play tentatively titled, Seasons is Her Name, was accepted in the Plays-In-Progress Symposium at the 2022 Mid-America Theatre Conference to be held in Cleveland, Ohio in March. Clay will receive a professional staged reading of her new work as well as assisted dramaturgy research for further development of the play.
Students, community members, and potential partners interested in the programs, courses, major, minor, or graduate certificate in African American Studies are encouraged to connect with our office via afam@uga.edu. We look forward to hearing from you!