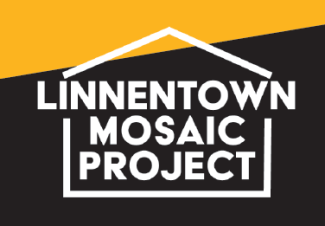 Lay Park Community Center 297 Hoyt Street Athens GA 30601
Join the Linnentown Mosaic Project in designing a public art piece to honor and celebrate Linnentown, a Black community in Athens that was destroyed by urban renewal in the 1960s to make way for UGA student dormitories. This mosaic is one element of a Walk of Recognition planned by the Athens Justice and Memory Project and to be installed on South Finley Street.
Linnentown Mosaic Design Workshop
Saturday, October 23, 1-3pm
Lay Park Community Center, 297 Hoyt Street, Athens, GA 30601
In our first community workshop we will:
Learn about Linnentown's history

Share stories and experiences

Gather ideas for the design of the mosaic
Additional Workshop Details:
All ages are welcome. Ages 12 and under must be accompanied by a parent/guardian.

Face masks and social distancing are required.

Refreshments will be provided.

Main parking will be located at the parking lot on Hoyt Street, but there will be overflow parking behind Lyndon House Arts Center.

Feel free to come and go from the workshop as you like! You do not need to attend the whole event.
A flyer with workshop information is attached--please share widely. Access additional information for Linnentown and the Linnentown Mosaic Project and follow to receive notification of future workshop dates at https://linktr.ee/linnentownmosaic