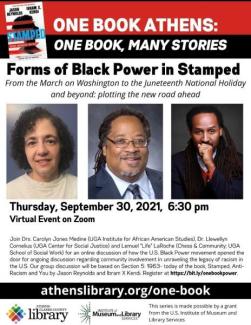 Virtual - see registration details
"Forms of Black Power in Stamped : From the March on Washington to the Juneteenth National Holiday and beyond: plotting the new road ahead"
Join Drs. Carolyn Jones Medine  (UGA Institute for African American Studies), Dr. Llewellyn Cornelius (UGA Center for Social Justice), and Lemuel "Life" LaRoche (UGA School of Social Work, Chess and Community), and community members for a discussion of how the U.S. Black Power movement opened up the door for ongoing discussion regarding community involvement in unraveling the legacy of racism in the U.S. Our group discussion will be based on Section 5- 1963- today of the book:  Stamped, Anti-Racism and You by Jason Reynolds and Ibram X Kendi. Register here!
For full information, including past event recordings, we encourage you to visit: http://athenslibrary.org/one-book