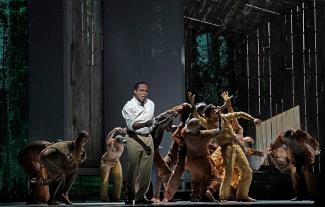 Beechwood Movie Theater, Athens, GA
Hello everyone,
  I would like to bring to your attention an important African American musical event from the Metropolitan Opera that will be broadcast in Beechwood movie theater on Saturday October 23, 2021 at 12:55pm. It is the opera Fire Shut Up in my Bones by jazz composer and trumpeteer Terence Blanchard and marks the Metropolitan Opera's first performance by a Black composer in its 139 year history, the first staging of an opera by a Black female director, Camille Brown and the first time an African American librettist, filmmaker Kasi Lemmons, is having her work performed at the Met.  Adapted from NY Times columnist Charles Blow's coming of age memoir Fire Shut Up in My Bones (2015), this contemporary piece chronicles his life as a young Black boy in the Deep South, bringing together elements of jazz, Black fraternity step shows, gospel, and blues. "The opera. . .embraces the texture and rhythms of young Charles' life growing up in the small town of Gibsland, Louisiana-the love of his mother and siblings, the secret of his sexual abuse at the hands of two extended family members, and his path through recognizing the trauma and finding a way forward."  For director Camille Brown, it is a Black experience that brings part of the rich history of the African diaspora into a once racially segregated Met space that excluded African Americans from the stage.  As Prof. Naomi André writes in her piece on the opera:  "The powerful new stories of contemporary Black operas bring together individual private experiences that communicate the shared humanity in all of us, and provide a charge for the future of opera in general."   
Such firsts, are of course, long overdue recognition of the work of African American composers, artists, librettists and more and only the beginning of the profound (structural) work needed to be done…. 
For more about this production read here:
https://www.metopera.org/discover/articles/blaze-of-glory/
For a clip of the production: 
                TV spot:  https://www.youtube.com/watch?v=XMxSfPBaWXs
                "Peculiar Grace" (clip): https://www.youtube.com/watch?v=YGo4mSQs3wk
Article in the Washington Post:  https://www.washingtonpost.com/entertainment/music/fire-shut-up-in-my-bones-blanchard-met-opera/2021/09/28/a801cc2e-2057-11ec-b3d6-8cdebe60d3e2_story.html
To purchase tickets:  https://www.gtcmovies.com/film-info/beechwood-cinemas/met-opera-fire-shut-up-in-my-bones