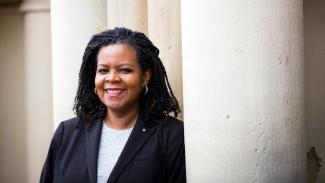 Zoom
Constitution Day: "On Juneteenth: History, Memory, the Present and the Future"
Zoom Webinar | Register at spia.uga.edu
Speaker: ANNETTE GORDON-REED, Carl M. Loeb University Professor of History, Harvard University
Annette Gordon-Reed is the Carl M. Loeb University Professor at Harvard University. Gordon-Reed won sixteen book prizes, including the Pulitzer Prize in History in 2009 and the National Book Award in 2008, for The Hemingses of Monticello: An American Family. Her most recent book is On Juneteenth, a memoir and history of Texas.
Her honors include the National Humanities Medal (awarded by President Barack Obama), a Guggenheim Fellowship, and a MacArthur Fellowship. Gordon-Reed was also elected a Fellow of the American Academy of Arts and Sciences, and is a member of the Academy's Commission on the Humanities and Social Sciences. In 2019, she was elected a Member of the American Philosophical Society.
Co-sponsored by the American Founding Group, The Gable Fund of the Department of History, Jack Miller Center, Office of Institutional Diversity, President's Venture Fund, School of Law, School of Public and International Affairs, and Willson Center for Humanities and Arts.