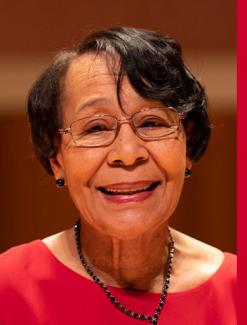 Virtual - see registration link
Join Georgia trailblazer and namesake of the Mary Frances Early College of Education on Tuesday, September 28, 2021 to celebrate the launch of her memoir The Quiet Trailblazer: My Journey as the First Black Graduate of the University of Georgia. A live conversation about the book with Ms. Early (MMED '62, EDS '67) will be led by UGA Women's Head Basketball Coach, Joni Taylor.
The event will be live-streamed and attendees will be able to submit questions to be answered live. The viewing link will be provided via email to all registrants 24 hours before the event.
FOR UGA STUDENTS: 500 free copies of The Quiet Trailblazer will be available to UGA students at the following UGA Libraries locations: Miller Learning Center, the Main Library, the UGA Curriculum Materials Library inside of the Mary Frances Early College of Education, and the library at the School of Music. These copies have been made available through The Office of the President supporting the community reading program initiated by the Presidential Task Force on Race, Ethnicity and Community.
FOR NON-STUDENTS: Other members of the UGA community, including faculty, staff, and alumni, are invited to purchase The Quiet Trailblazer, published by the Mary Frances Early College of Education and the UGA Libraries with distribution services from the UGA Press. Use the code 08TRBLAZ21 by Oct. 15 to receive a 40 percent discount on the book and free shipping. https://ugapress.org/book/9780820360812/the-quiet-trailblazer/
Co-sponsored by the Mary Frances Early College of Education, UGA Libraries, Office of Alumni Relations, and the Office of the President. Part of the celebration of the 60th Anniversary of the Desegregation of UGA.
Livestream | Register for event here.