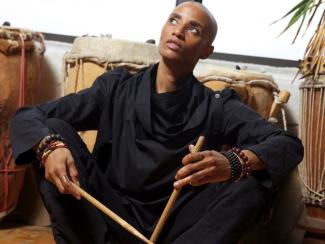 Cine, 234 W. Hancock Avenue, Athens, GA
Composer, percussionist, and DJ Val Jeanty will share the stage at Ciné with Ashon Crawley, associate professor of religious studies and African American and African studies at the University of Virginia, on Thursday, Feb. 13. Jeanty will give a musical performance at 6 p.m., followed by a conversation with Crawley at 7 p.m. The event is FREE and open to the public. Ciné is located at 234 W. Hancock Ave. in downtown Athens.
The evening with Jeanty and Crawley is the second in the series DJ Summits in the Global South, an Andrew W. Mellon Foundation grant-funded research project in the Willson Center's Global Georgia Initiative. It is also part of the Global Georgia Initiative's annual public events series.
Ed Pavlić, Distinguished Research Professor of English and African American studies at UGA, is the research project's director and programs the summits with support from the Willson Center.
"As a percussionist and sound designer inspired by Haitian and African Diasporic cosmologies, Val Jeanty improvises at the cutting-edge spiritual corner where improvisation and enlightenment collude and collide," Pavlić says. "Who better to get her together with than Ashon Crawley, our foremost philosopher of what's at stake in Black ecstatic ritual practice?"
Jeanty is a Haitian-born New Yorker whose musical practice combines modern electronic and traditional acoustic instruments for improvised performances and installations she refers to as "Afro-Electronica." She is featured as a turntabulist on Diatom Ribbons by Kris Davis, which was voted the top new album of 2019 in the NPR Music Jazz Critics Poll.
Crawley's research and teaching focus on Black studies, performance theory and sound studies, philosophy and theology, and Black feminist and queer theories. He is the author of Blackpentecostal Breath: The Aesthetics of Possibility (Fordham University Press, 2016) and the forthcoming The Lonely Letters (Duke University Press, spring 2020).
This event is presented in partnership with the Willson Center for Humanities & Arts and the Latin American and Caribbean Studies Institute.
Departmental Host or Contact: