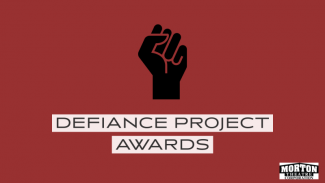 Athens, GA
Starting September 1st we are accepting submissions and curating pieces for our Defiance Awards Project.
 The project will provide cash awards to Black or African-American identifying artists who present short films or studio art created to document and/or explore the Black Lives Matter Movement and/or everyday experience of blacks in America. Artists are invited to submit either studio art creations or short narrative or documentary films, filmed poetry readings, music performances, dance performances, or time lapsed studio art presentations.
 Projects can be submitted individually or by groups, as long as one individual involved identifies as Black or African-American.
 A jury will select up to 10 projects to each receive a $500 cash award. Films should be no longer than 10 minutes and can be submitted through a downloadable link (youtube, vimeo, dropbox or wetransfer) to board@mortontheatre.com. Studio art pieces can be submitted by sending a JPEG photo of the art piece to board@mortontheatre.com. All submissions are due by October 31st, 2020. For further information applicants should visit www.mortontheatre.com or email any questions to board@mortontheatre.com