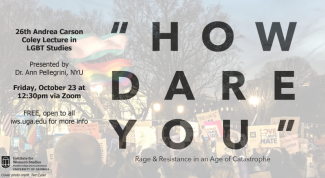 Zoom
Mark your calendars and plan ahead to attend our 26th Andrea Carson Coley Lecture. This event was originally scheduled for April 2020, but was postponed due to COVID-19 and will now take place on Friday, October 23, 2020 at 12:30pm via Zoom.
"How Dare You": Rage and Resistance in an Age of Catastrophe will be presented by Dr. Ann Pellegrini, Professor of Performance Studies & Social and Cultural Analysis at New York University.
Dr. Pellegrini's books include: Performance Anxieties: Staging Psychoanalysis, Staging Race; Love the Sin: Sexual Regulation and the Limits of Religious Tolerance (co-authored with Janet R. Jakobsen); Secularisms (co-edited with Jakobsen); and "You Can Tell Just By Looking" and 20 Other Myths about LGBT Life and People (co-authored with Michael Bronski and Michael Amico). "You Can Tell Just By Looking" was a finalist for a Lambda Literary Award for Best LGBT Non-Fiction, in 2014. Pellegrini co-edits the "Sexual Cultures" book series at New York University Press (with Joshua Chambers-Letson and Tavia Nyong'o), and is a candidate in adult psychoanalysis at the Institute for Psychoanalytic Training and Research (IPTAR), in New York City. 
This lecture is FREE and open to all, but you must register in advance for the Zoom link. Please share with your colleagues, students, and friends. This program is endowed by the Coley family and co-sponsored by the UGA LGBT Resource Center and the Georgia Museum of Art.
Register in advance for this meeting:
https://zoom.us/meeting/register/tJYvce-gqjIrGN3mPUcIvziqw3j7Ep-YIPl4
After registering, you will receive a confirmation email containing information about joining the meeting.