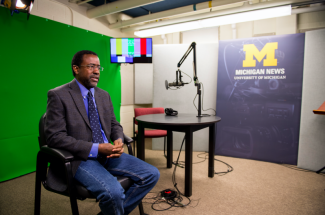 480 Baldwin Hall (Pinnacle Room)
"Whitewashing: How Obama Used Implicit Racial Cues as a Defense Against Political Rumors"
Dr. Vincent L. Hutchings is one of the world's leading experts in Political Science and especially Race & Ethnic Politics in the United States. Dr. Hutchings is a professor at the University of Michigan, where he also has a courtesy appointment in the Department of Afro-american and African Studies. He is a Fellow of American Academy of Arts and Sciences, a recent principal investigator for the American National Election Study, and the most-recent president of the Midwest Political Science Association. Dr. Hutchings' research interests include public opinion, elections, voting behavior, and African American politics. He holds a Ph.D. in Political Science from the University of California, Los Angeles.
Click here to register for the event.
Questions? Contact Kalah Mingo at kalah.mingo@uga.edu