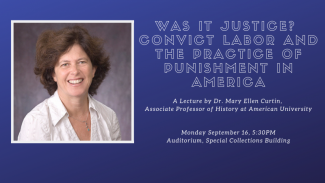 Special Collections Library Auditorium
Please join us on Monday September 16 at 5:30PM at the Special Collections Library for the lecture, "Was It Justice? Convict Labor And The Practice Of Punishment In America," by Dr. Mary Ellen Curtin, Associate Professor of History at American University. The lecture will explore the history of forced labor as legal punishment for men and women, black and white.
Institute for African American Studies students are also invited to join us for free pizza at a lunchtime Q & A discussion with Dr. Curtin from 12-1:30PM in Room 277 at the Special Collections Library.
For more information, contact Kaitlin Dotson, 706-542-6367, kdotson@uga.edu