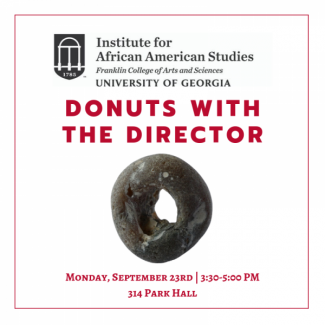 314 Park Hall
Our Director of the Institute for African American Studies, Dr. Carolyn Jones Medine, invites current and prospective undergraduate or graduate AFAM students to a drop-in "Donuts with the Director" event.
This event allows you all the opportunity to connect with one another, explore resources available in IAAS (including computers, printing, and a library), and to ask questions about the Giles Encouragement Award (recipients chosen each spring). We hope to see you all there!
Email afam@uga.edu if you have questions regarding the major, minor, or graduate certificate in African American Studies or if you'd like to schedule a meeting.