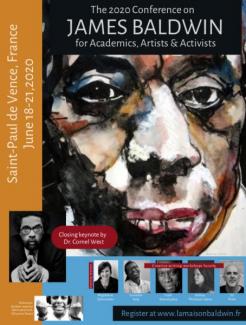 Saint-Paul de Vence, France
In light of the COVID-19 pandemic and global response, the Conference on James Baldwin has been postponed until June 2021. Additional details forthcoming. Original article updated March 19, 2020. 
The Institute for Academic American Studies is proud to announce the 2021 Conference on James Baldwin for Academics, Artists, and Activists. In addition to the conference's ongoing scholarly exploration of all things Baldwin, this year's gathering will expand to engage community activists, writers, performing artists and other change agents for a multidisciplinary conversation on James Baldwin and social justice. Click below to explore the conference website.
Conference Speakers, Faculty, & Registration Information.
If you are interested or have questions, reach out to Dr. Ed Pavlic (pavlic@uga.edu). 
Departmental Host or Contact: