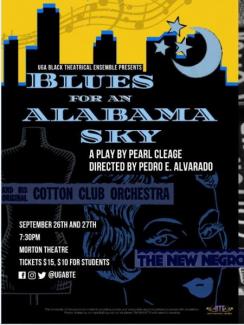 Morton Theatre - 195 W. Washington St.
The UGA Black Theatrical Ensemble presents Blues for an Alabama Sky by Pearl Cleage and directed by Graduate Student Pedro E. Alvarado. Showing Thursday, September 26th and Friday, September 27th at 7:30 PM at the Morton Theatre in downtown Athens, Georgia, located at 195 West Washington Street. Tickets: $15 ($10 for UGA students)
Follow @UGABTE on social media platforms for information regarding future shows!