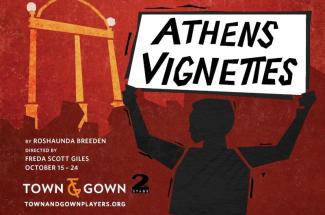 Town & Gown and Virtual (see details)
Athens, Ga – Town & Gown Players introduces the premier production of Roshaunda Breeden's production of Athens Vignettes: A Dialogue with the African American Community with show dates October 15-17th and October 22-24th, 2021. The production is directed by Dr. Freda Scott Giles, Associate Professor of Theatre and the Institute for African American Studies at UGA. 
Playwright Roshaunda Breedan has taken interviews with Athens community members and crafted them into three powerful scenes that express views from the African American community in Athens. There is a great deal about the history of Athens and UGA that has not been comprehensively addressed, and the Athens community — particularly the African American community — generally sees itself as not being truly heard by UGA.  
The three powerful scenes cover Baldwin Hall burial site, the loss of Linnentown, and the often fraught relationship between the African American segment of the Athens area and the UGA community. After each scene, there will be an open dialogue with the audience.  
Town & Gown and Director Dr. Giles hopes that through this production the African American community will feel listened to and heard, leading to better communication, comprehension, and problem solving between the African-American community, Athens communities, and UGA. Additionally, Town & Gown hopes to forge new engagement from members of the Athens community as both audience members and participants in theatrical productions. "We are actively creating a more inclusive environment through community outreach and dialogue," says Town & Gown President Nathan Altman. 
Athens Vignettes actors are comprised of Town & Gown regulars and new performers from Athens community.  
About Town & Gown Players: 
Town & Gown Players has been producing live theatre for the Athens community continuously since 1953. 
For more information, please visit https://www.townandgownplayers.org/ 
Contact Information: 
To learn more about this production, please contact 
secondstage@townandgownplayers.org 
Tickets: